August 2017 GeenieBox Curator: Afrobella
---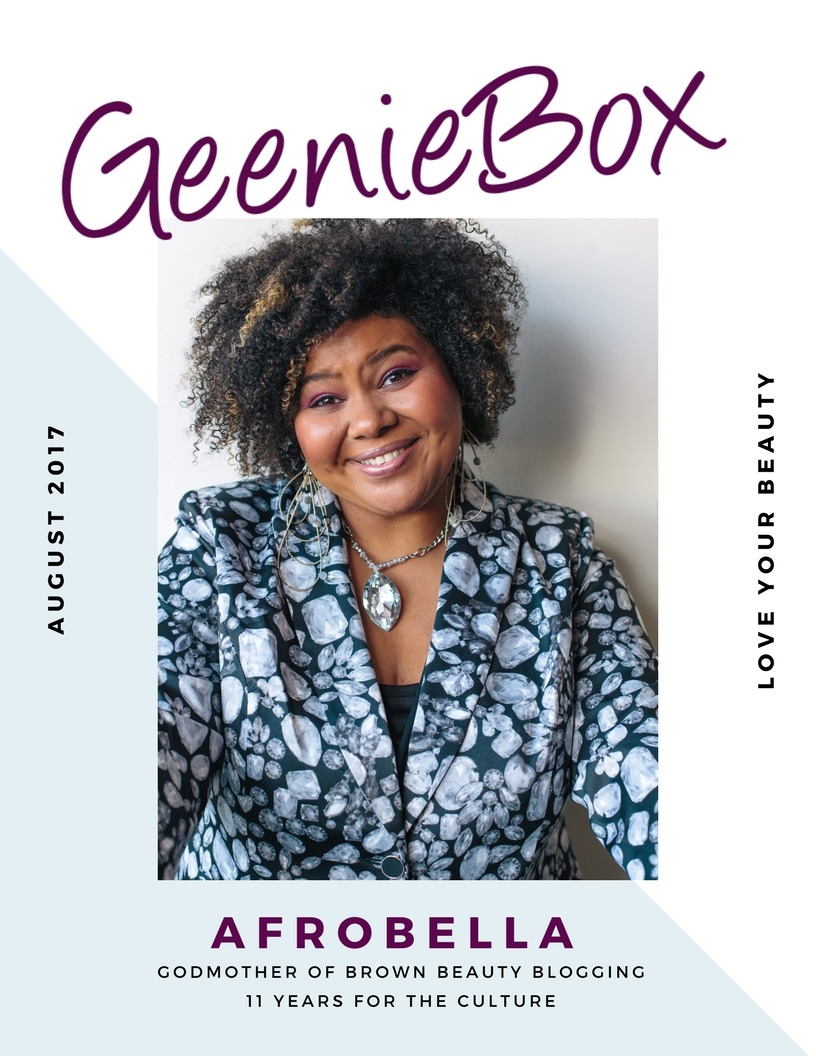 NOTE FROM AFROBELLA: 
...So this August I'm celebrating 11 years of beauty blogging. SO much has changed in beauty, and I am more inspired than ever by the diversity in the space. On the occasion of my bloggaversary, I'm excited to share that I have partnered with GeenieBox to deliver an anniversary box!
This special edition GeenieBox will feature a few of my favorite brand partners through the years, a book that has inspired me (and continues to inspire me) and a uniquely Chicago experience! Through GeenieBox's "give forward," we also have the opportunity to give back to a charity of my choice, and I chose the under resourced girls and boys in Chicago. Partial proceeds from the sale of my box will go to Mercy Home, a Chicago-based charity that impacts the lives of young people by providing critical housing and resources. I have visited Mercy Home in the past and spent time with some of these girls and their stories of resilience and survival are truly incredible and touching — you can check them out and learn what they do by clicking right here.
Sales for my GeenieBox are open NOW and will close Labor Day. The box will ship by the first week of October. My box is a limited edition one, so grab one now while you can! " READ MORE
 About Afrobella
Founder of Afrobella®. One of WWD's 50 Most Influential People in the Multicultural Beauty Market. Some call her the Godmother of Brown Beauty Blogging.
Trinidadian-born writer Patrice Grell Yursik created Afrobella.com to fill a void and to celebrate the inner and outer beauty of women all shades of beautiful. Her award-winning blog shines a loving light on natural hair and the wonderfully wide range of gorgeous skin tones and sizes women come in.
Patrice has been featured in Essence, Ebony, Glamour, the Trinidad Guardian, WWD and Fast Company. Patrice has contributed her writing to Essence, Bust, Newsweeek, Elle.com, and Teen Vogue.com. She has been heard on NPR and The Michael Baisden Show. She has covered red carpets at the BET Awards, New York Fashion Week and the Academy Awards. She has been featured in advertising campaigns for haircare brand Cream of Nature and cosmetics brands Urban Decay and Lancôme, and hosted events for brands including Microsoft, P&G, Unilever, SheaMoisture and Carol's Daughter. She was the official partner for PG Beauty's My Black Is Beautiful campaign for 2015 and 2016.

In 2011 Afrobella partnered with MAC Cosmetics to create her own custom lipglass called "All Of My Purple Life," part of the Bloggers' Obsession collection (which debuted on June 21,2011. Her color sold out in a week).
She was the natural hair blogger at Black Voices and was one of the first writers for Vogue Italia's Vogue Black online, and contributed the weekly Natural Hair Diary feature to Essence.com. Patrice has become a sought after speaker and has presented keynotes and talks at Blogging While Brown, BlogHer, Bakespace, Be Healthful Chicago, New Media Expo, Blogalicious, SXSW and TEDxPortofSpain Trinidad in 2012.
Afrobella was listed as one of Ebony Magazine's Power 100, and has won more than ten online awards, including inclusion to the Black Weblog Awards Hall of Fame. In 2016 she was included in The Root 100 list. In 2017 she was named one of 19 Black Women Who Broke Beauty Boundaries and Made History by Refinery29.
Give Forward

Your GeenieBox membership, supports the work of advancing and empowering women and girls. Partial proceeds from Afrobella's box will go to Mercy Home, a Catholic children's charity based in Chicago, dedicated to changing the future for the boys and girls, ages of 9-21, by providing them a home and resources in their most critical hour. We'll donate up to 12% of new GeenieBox subscriptions (Aug-Sep) to support the work of Mercy Home.